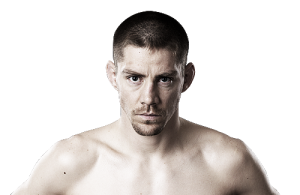 While mixed martial arts is, by definition, comprised of many different techniques and tactics for winning a fight, some of the more exciting finishes are the result of a knockout. These wins are even more explosive when they happen early in the fight. With this in mind, here are the ten fastest knockouts in UFC history.
Todd Duffee – Seven seconds into the very first round at UFC 102, Todd Duffee knocked Tim Hague out after refusing to touch gloves with his opponent.
Chang Sung Jung –Also clocking in at seven seconds into the first round is Chang Sung Jung, who knocked out his opponent Mark Hominick with a devastating straight right at UFC 140.
Ryan Jimmo –In a three-way tie with Duffee and Jung. the at the time undefeated Ryan Jimmo put much-hyped opponent Anthony Perosh to sleep with a massive right punch at UFC 149.
Don Frye –Way back at UFC 8, Don Frye made his debut and UFC history by dispatching opponent Thomas Ramirez in a mere eight seconds. For more than a dozen years, this legendary knockout was the fastest in the promotion's history.
James Irvin –Tying the previous record set by Don Frye, James Irvin made quick work of opponent Houston Alexander at UFC Fight Night 13. In just eight seconds, Irvin was declared the winner by knock out.
Gray Maynard –The only victory by stoppage of Gray Maynard's career was also his first UFC win, when he delivered a left hook that left opponent Joe Veres unconscious at UFC Fight Night 11 just nine seconds into the first round.
Mark Weir –In his UFC debut at UFC 38, Mark Weir took out opponent Eugene Jackson with a jab ten seconds after the fight began. Despite his impressive opener, Weir's first fight was also his last. After the loss, opponent Eugene Jackson left the UFC altogether.
B.J. Penn – At the time a relatively inexperienced fighter, B.J. Penn made quick work of his more seasoned opponent, Caol Uno, at UFC 34. Eleven seconds into the fight, Penn knocked out Uno with an uppercut. Later, he would go on to win the belt and establish himself as one of the most accomplished fighters in his weight class.
Duane Ludwig – In addition to being one of the fastest knockouts in UFC history, Duane Ludwig's triumph over opponent Jonathan Goulet at UFC Fight Night 3 is also one of the most contentious. Officially, the fight ended at eleven seconds. Unfortunately, the Nevada State Athletic Commission timekeeper was slow to stop the clock. Evidence points to a six-second knockout, which would have been the fastest to date in the UFC. Still, the Commission stood by its initial ruling and Ludwig is not officially recognized for setting such an impressive record.
Rob Emerson – Despite securing a knockout victory at UFC 87 against Manny Gamburyan in twelve seconds, Rob Emerson lost three of his next four fights and was subsequently cut from the organization's roster. Still, he holds a spot on the top ten list of all-time fastest knockouts for the promotion.
As the UFC continues to grow in popularity, some of these legendary knockouts will be replaced by even more spectacular finishes. Still, each and every one of these fighters has earned a spot in UFC history.